See on Scoop.it – English-Attack! Thailand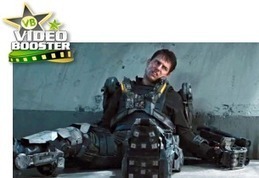 Ajarn Donald's insight:
อาทิตย์นี้เราเน้นที่This week, we feature Edge Of Tomorrow on English Attack!
หนังแอ็คชั่น
แบบฝึกหัดเชื่อมโยงกับวิดีโอคลิป The Only RuleของEdge Of Tomorrow.
สรุปคลิปเป็นภาษาอังกฤษ
In this clip from the sci-fi blockbuster about a soldier fighting in a war with aliens who finds himself caught in a time loop of his last day in battle, experienced fighter Rita (Emily Blunt) teaches Cage (Tom Cruise) the key rule of the battlefield.
สถานที่ตั้ง
English-Attack Thailand
สอบถามข้อมูลเป็นภาษาไทย:
Supawan Inbunna โทร. 088-249-4917
อีเมล: supawan.inbunna@english-attack.com
สอบถามข้อมูลเป็นภาษาอังกฤษ:
Donald Patnaude โทร. 081-855-2701
อีเมล: donald.patnaude@english-attack.com
See on www.english-attack.com