See on Scoop.it – English-Attack! Thailand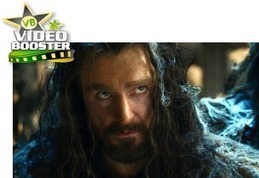 Ajarn Donald's insight:
หนัง การผจญภัย
แบบฝึกหัดเชื่อมโยงกับวิดีโอคลิป You Have No RightของThe Hobbit – The Desolation of Smaug. สรุปคลิปเป็นภาษาอังกฤษ
In this clip from the second film in the Hobbit trilogy, Bard the Bowman (Luke Evans) warns the people of Laketown against the plan of Dwarf leader Thorin (Richard Armitage) to reclaim his ancestral kingdom of the Lonely Mountain (Erebor) from the Dragon Smaug.
หัวเรื่องสมุดภาพด้านบนAt The Doctor's Office.
เรีบนรู้34 คำศัพท์ใหม่และการแสดงความคิดเกี่ยวข้องกับหัวเรื่อง ทุกคำศัพท์มีภาพประกอบ คำจำกัดความ มีตัวอย่างประโยคแบบง่ายง่ายพร้อมกับการออกเสียง
คำศัพท์ประจำสัปดาห์ STETHOSCOPE
คำจำกัดความเป็นภาษาอังกฤษ
a device used by doctors to listen to patients' hearts and lungs
คาราโอเค / ดนตรีแนวริทึ่มแอนด์บลูส์SayWhat? เกมส์จากคลิปวิดีโอPharrell Williams.
ฝึกทักษะในการฟังและการจับใจความกับเกมส์คาราโอเคที่น่าติดตาม
English-Attack Thailand
สอบถามข้อมูลเป็นภาษาไทย:
Supawan Inbunna โทร. 088-249-4917
อีเมล: supawan.inbunna@english-attack.com
สอบถามข้อมูลเป็นภาษาอังกฤษ:
Donald Patnaude โทร. 081-855-2701
อีเมล: donald.patnaude@english-attack.com
https://www.facebook.com/EnglishAttack
See on th.english-attack.com