See on Scoop.it – Ajarn Donald's Educational News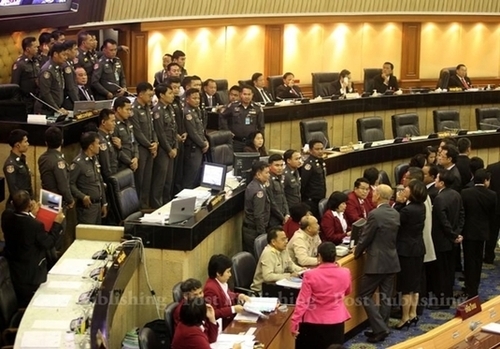 Thai parliament, charter amendents, debate, chaos, Nikhom Wairatpanich, Somsak Kiatsuranont
Ajarn Donald's insight:
Riot police were later asked to stand by outside parliament in what the Democrat Party described as an attempt tointimidate opposition MPs.
Members of the House of Representatives and senators Tuesday started deliberating the second reading ofproposed charter amendments relating to the make-up of the Senate
Senate Speaker Nikhom Wairatpanich acted as chairman of the meeting Tuesday morning. His chairing of the meeting prompted protests by Democrat MPs.
Democrats including Boonyod Sooktinthai and Thana Cheeravinij argued that Mr Nikhom had signed in support ofcharter amendments so it was improper for him to chair the meeting as he could be seen as lacking impartiality
Parliament President Somsak Kiatsuranont later took over the chairmanship.
The atmosphere became tense when Mr Somsak refused to allow 57 Democrat MPs, who had reserved their right to debate the proposed changes to the charter amendments to speak.
Samart Kaewmeechai, chairman of the parliament committee scrutinising the amendments told the meeting earlier that the 57 MPs should be barred from the debate since they failed to adhere to what was approved in the first reading of their proposed amendments
Mr Somsak said he would allow only two of them to debate. If all of the 57 MPs were permitted to speak, the debate would take the whole day, he said.
The Democrats protested saying that Mr Somsak was trying to strip them of their right to speak.
Mr Somsak decided to call a vote to decide if all the 57 Democrats should be allowed to debate.
The meeting voted 339 against the request by the 57 Democrats, while only 15 voted in support.
However, the Democrats continued protesting until Mr Somsak slammed a wooden gavel on his desk three times and then called in parliament police officers to keep order
Mr Somsak ordered the police to take the protesting MPs out of the chamber which led to chaotic scenes andscuffles between the Democrats and parliament police officers.
The situation was threatening to get out of hand so Mr Somsak decided to adjourn the meeting for 10 minutes about 2pm. But when the meeting resumed, disorderly scenes broke out again when Mr Nipit, the Democrat MP for Phatthalung, told the meeting that a company of 150 riot police would be sent in to restore order at the request of Mr Somsak.
The Democrats said they would refuse to cooperate unless the riot police were ordered to leave the premises The meeting had to be called off at 3.20pm again.
When the meeting resumed, Democrat MP Witthaya Kaewparadai demanded Mr Somsak take responsibility for calling in riot police to intimidate MPs.
Mr Somsak told the meeting that parliament's security office had asked police to ensure security around parliament, not inside the building.
See on www.bangkokpost.com