See on Scoop.it – Ajarn Donald's Educational News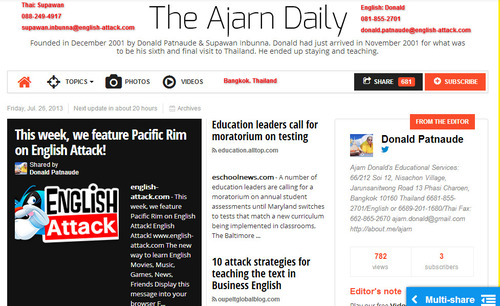 The Ajarn Daily, by Donald Patnaude: Founded in December 2001 by Donald Patnaude & Supawan Inbunna. Donald had just arrived in November 2001 for what was to be his sixth and final visit to Thailand. He ended up staying and teaching.
Ajarn Donald's insight:
An interactive exercise based on the video clip "It's About Compatibility" of Pacific Rim. CLIP SUMMARY IN ENGLISH
In this clip from the sci-fi thriller about giant monsters who emerge from deep below the earth to terrorize humanity, former pilot Raleigh Becket (Charlie Hunnam) is surprised by the martial arts fighting skill of trainee Mako Mori (Rinko Kikuchi).
วิดิโอบุสเตอร์เรียนภาษาอังกฤษออนไลน์ ช่วยปรับปรุงการใช้ภาษาอังกฤษของท่านดีขึ้น ไม่ว่าภาษาอังกฤษของท่านอยู่ในระดับไหน แบบเรียนสั้นสั้นนี้ได้จัดทำมาเป็นคลิปสั้น มาจากภาพยนต์ เรืองในโทรทัศน์ รายงานข่าว เอกสาร หรือวิดิโอคนตรี
See on paper.li