See on Scoop.it – Ajarn Donald's Educational News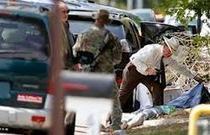 WASHINGTON – A man served an eviction notice near Texas AM University campus let loose a hail of gunfire, killing a law enforcement officer and another person and was shot dead by police Monday.
Thomas Alton Caffall, 35, opened fire on Brazos County Constable Brian Bachmann when the officer brought an eviction notice.
The shootout occurred a week after a gunman killed six worshippers at a Wisconsin gurdwara.
Four others were wounded in the exchange of gunfire that took place shortly after noon Monday. The gunman was shot by officers.
Bachmann, 41, is the sixth law enforcement official killed so far this year in Texas, CNN reported citing the National Law Enforcement Officers Memorial Fund.
The third victim, described as a "civilian bystander," was identified as 43-year-old Chris Northcliff of College Station.
The shooting took place at an off-campus home not far from the university's football stadium in College Station, 145 km northwest of Houston. Three other law enforcement officers and a 55-year-old woman were wounded, an official said.
Caffall on his Facebook page described himself as "a cross between Forrest Gump and Jack Kerouac … I'm on the road permanently."
Three of the seven profile pictures on the Facebook page are of rifles, three feature dogs and one shows a man in an image much like one distributed Monday night by the city of College Station, CNN said.
His list of "inspirational people" includes famed snipers Vasily Zaytsev and Carlos Hathcock, as well as noted firearms designers Eugene Stoner, Mikhail Kalashnikov, John Garand, Samuel Colt and John Browning.
Caffall's sister said Monday night the family was "shocked" by the violence.
"Our hearts and prayers go out to the families and this is just a senseless tragedy," said Courtney Clark, Caffall's sister, according to AP.
Texas Governor Rick Perry, an AM alumnus, said at an event in Florida that his "prayers are with any of those that have been injured."
AM President R. Bowen Loftin issued a statement calling Monday a "sad day in the Bryan-College Station community."
See on www.bignewsnetwork.com