Via Scoop.it – Ajarn's Bits & Pieces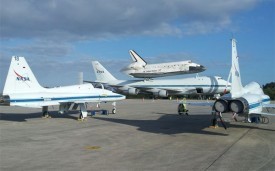 The space shuttle Discovery will take to the skies one more time today (April 17), but not on the power of its own engines.
Weather permitting, the retired shuttle orbiter will fly atop a modified Boeing 747 jet from Florida to Virginia to take its place in the collection of the Smithsonian's National Air and Space Museum. Discovery and its jumbo jet ride are due to depart just after sunrise from NASA's Kennedy Space Center in Cape Canaveral, Fla., and land midmorning at the Dulles International Airport outside Washington, D.C.